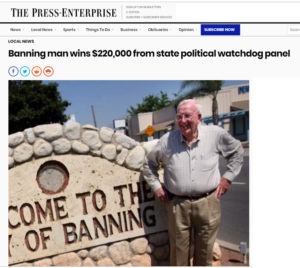 Frank Burgess, a resident of Banning, was awarded over $200,000 in legal fees after a court determined that the California Fair Political Practices Commission had overstepped on his constitutional protections on the matter of a fine levied against him as a member of a nonprofit hospital board.
John Pinkney, Burgess's attorney, stated that the case is very significant as Mr. Burgess contested the FPPC for years over this matter. Pinkney, who is also the attorney for Beaumont, believes this is the first ruling of its kind against the commission for violating due process.
The communications director of the commission, Jay Wierenga, refused to comment.
What is FPCC?
The FPPC comprises five members and is a non-partisan commission which is responsible for the implementation of the Political Reform Act. This act regulates campaign financing, lobbying, conflict of interest, and governmental ethics.
The FPPC conducts enquiries into claims of wrongdoings and usually fines candidates and elected officials who violate the rules.
History of the Case
In 2010, 84-year-old Burgess was fined $5,000 over what the commission determined to be a conflict of interest.
A former Banning City Council member, Burgess, could have chosen to pay the fine and save himself from spending many years and significant amounts in lawyer fees in long-drawn court battles. But he says he was brought up with values to the contrary.
He stated on Thursday, Sept. 6 that paying the fine would be an admittance of being dishonest, which is something he could not bring himself to do.
Pinkney described this as a Henry David Thoreau moment.
The attorney elaborated that Burgess decided that he would stand his ground and protect the Constitution.
Burgess was fined for trying to convince other members of the nonprofit board of the San Gorgonio Hospital to carry on doing business with a moving and storage company owned by his son.
In the court, Pinkney argued that the Political Reform Act did not include members of a non-profit board.
Fine Overturned, Compensation Awarded
Riverside Superior Court Judge Craig G. Riemer has overturned the fine and agrees with Burgess's claim that he has been denied due process as he did not have any advance warning that he was a public official.
In addition, Burgess was awarded compensation for legal and other fees. The FPPC has appealed this compensation award.
Justice Richard T. Fields of the California Fourth District Court of Appeals, Division Two, gave an unpublished opinion upholding the $221,166 in attorneys' fees and costs as well as other appeal-related costs and fees which were awarded to Burgess.
The ruling stated that Burgess had suffered a violation of his right to due process by being levied a fine for a rule that he did not break as the foundation board was not considered to be a government body.
Burgess was on the Banning City Council from the year 1970 through 1978 and then again from the year 1980 through 1984. He was also appointed to the San Gorgonio Hospital Board which comprised five members and the separate 13-member nonprofit foundation board. He served on these boards from 2009 to 2011.
Key Points Raised by Pinkney
Pinkney explained that the rules pertaining to members of elected boards did not apply to the board members of a nonprofit organization, such as charities or foundations.
He further highlighted that no existing law directed that the board was subject to the Political Reform Act, and it was a case of wrong handling by the FPPC right from the beginning.
For more information or to request a consultation please contact the law offices of SBEMP (Slovak, Baron, Empey, Murphy & Pinkney) by clicking here.
SBEMP LLP is a full service law firm with attorney offices in Palm Springs (Palm Desert, Inland Empire, Rancho Mirage), CA; Costa Mesa (Orange County), CA; San Diego, CA; Princeston, NJ; and New York, NY.
DISCLAIMER: This blog post does not constitute legal advice, and no attorney-client relationship is formed by reading it. This blog post may be considered ATTORNEY ADVERTISING in some states. Prior results do not guarantee a similar outcome. Additional facts or future developments may affect subjects contained within this blog post. Before acting or relying upon any information within this newsletter, seek the advice of an attorney