Writing Contracts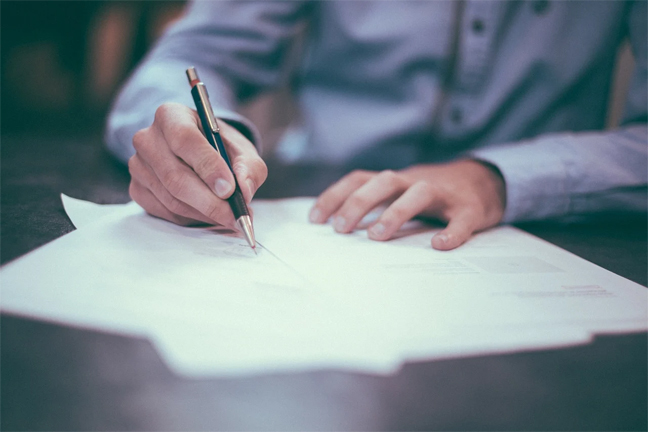 You will need to engage in negotiating, drafting, and signing business contracts if you launch a new business. Business contracts help in confidentiality, compliance, and cooperation between different parties. You would need to make use of these contracts regularly as a business manager or owner.
Poorly written or worded contracts don't tend to serve the intended purpose. You could end up exposing your business to liability. Seek legal help from a capable business law form if you are in need of a business contract.
Attorneys at SBEMP (Slovak, Baron, Empey, Murphy & Pinkney) law firm provides professional legal advice and services to clients in Palm Springs, Palm Desert, Rancho Mirage, Inland Empire, Orange County, Coachella Valley, Costa Mesa, San Diego, New Jersey, New York, and surrounding communities.
Types of Legal Contracts
Legal contracts or business contracts are written agreements that legally bind two or more parties transacting together. These are enforceable in civil court of law as long as specific contract laws are followed. The contracts used will differ as per the country, state, industry, and transaction type. Certain contracts are more in use than others.
These are a few types of business contracts:
Service contract
Employment contract
Commercial lease
Sale contract
Business partnership agreements
Joint venture agreements
There is no end when it comes to business contracts in vogue today. Regular use of digital contract transmittal and signing is supported by various industries. However, it's vital that the contracts are digitally signed in a method compliant with eSignature laws.
Components of a Business Contract
Every document has certain common provisions, but legal philosophies and overarching principles design them. In essence, a business contract states that something of value was traded with all parties agreeing to the terms.
These are a few key parts of a business contract:
Mutual consideration
Offer
Acceptance
Competency
Transaction details
It is important to note that a business contract is only as good as the language contained within in. You are bound to experience legal issues if the contract doesn't have the critical parts mentioned above. It is possible for the other party to raise a dispute as well. This makes it necessary to incorporate standard clauses and essential parts.
Common Business Contract Clauses
Business contracts differ in terms depending on the size, transaction, payment terms and other elements. You can manage and organize the terms by breaking down the business contract into common clauses. This strategy will help ensure that the arrangements are clear and that information can be located immediately.
These are a few common clauses in business contracts:
Choice of law clause
Confidentiality clause
Arbitration clause
Definitions clause
Indemnification clause
Severability clause
Warranties
Well-drafted business contracts uphold the enforceability and legality of provisions. Business contracts and small business law go hand-in-hand. You should start with a clarity of purpose while drafting the business contract.
Avoid Using Oral Contracts
Oral contracts are enforceable in several states, but usually give rise to disputes, which turn into legal fights. These can be challenging, time consuming, and costly to prove.
Lawyers at the SBEMP law firm serve clients from Palm Springs, Palm Desert, Rancho Mirage, Inland Empire, Orange County, Coachella Valley, Costa Mesa, San Diego, New Jersey, New York, and nearby locations for a range of legal practice areas.
Have any legal questions? Contact the Attorneys at SBEMP Law Firm:
For more information or to request a consultation please contact the law offices of SBEMP (Slovak, Baron, Empey, Murphy & Pinkney) by clicking here.
SBEMP LLP is a full service law firm with attorney offices in Palm Springs (Palm Desert, Inland Empire, Rancho Mirage, Indian Wells), CA; Indian Wells, CA; Costa Mesa (Orange County), CA; San Diego, CA; New Jersey, NJ; and New York, NY.
DISCLAIMER: This blog post does not constitute legal advice, and no attorney-client relationship is formed by reading it. This blog post may be considered ATTORNEY ADVERTISING in some states. Prior results do not guarantee a similar outcome. Additional facts or future developments may affect subjects contained within this blog post. Before acting or relying upon any information within this newsletter, seek the advice of an attorney.