Contract Law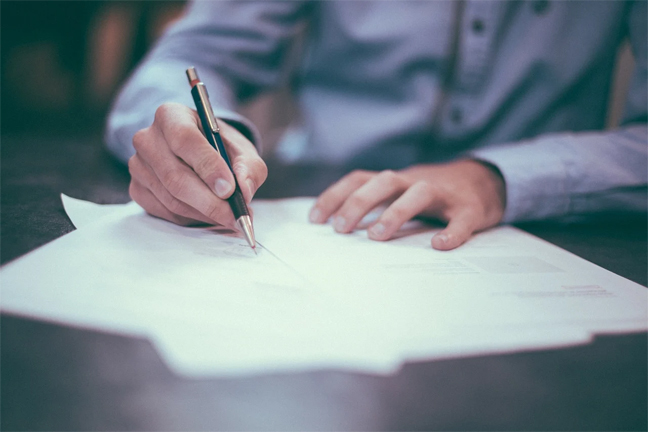 Business owners agree to certain obligations whenever they sign a contract. Breach of contract is said to take place whenever one party fails to fulfill the requirements of the agreement. Breach can occur because of a number of actions (or failure to act). This includes:
Not performing the contracted service in the given time frame
Not performing the contracted service as described
Interfering with the other party's ability to fulfill a contract
Not paying as agreed
Contracts usually end when both parties fulfill their obligations as mentioned in the document. A contract is said to be breached in part when one party fails to complete all parts of their contract.
Several elements need to be proved in a breach of contract lawsuit for it to be successful:
The written agreement needs to be valid and include the necessary components, such as an acceptance, offer, or mutual consent of parties. While verbal contracts are admissible in court, there are certain types of contracts that need to be expressed in writing.
Plaintiffs in the case should demonstrate how the agreement was breached by the defendant.
Plaintiff should demonstrate that they met all requirements on their part.
Plaintiff should have notified the defendant about the breach of contract.
Attorneys at SBEMP (Slovak, Baron, Empey, Murphy & Pinkney) law firm provides professional legal advice and services to clients in Palm Springs, Palm Desert, Rancho Mirage, Inland Empire, Orange County, Coachella Valley, Costa Mesa, San Diego, New Jersey, New York, and surrounding locations.
Plausible Defense in Contract Breach Lawsuits
Defendants can fight back if they were sued for breach of contract. One of the following arguments may be used by a business attorney against the allegation:
The contract is invalid since the plaintiff made false statements or deliberately neglected to mention vital information
The defendant was made to sign the contract under duress, physical force, threats, or influence
Mistakes were made in the contract by both parties
Statute of limitations to bring action has expired
Contract can be thrown out as invalid if an attorney can present convincing evidence to these defenses.
Legal Contracts for Small Businesses
Business owners can avoid breach of contract lawsuits at a later date by working with experienced and knowledgeable small business contract attorneys. Contracts play a legally binding role in almost all aspects of a business. This includes agreements with contractors, vendors, customers, employees, tenants, and landlords.
Your lawyer will be present in every phase of the contract, including creation, negotiation and execution. They will perform the following actions:
Assess the proposed arrangement and envision all possible future scenarios
Reach amenable terms by negotiating with the other party
Create and formalize a written agreement
Enforce unfulfilled contract requirements
Business Dispute Remedies
Parties can come to a resolution through arbitration and mediation in case of alleged contract breach. However, a case may end up in court if negotiations don't work. You may be entitled to financial damages and compensation if you sue the other party for breach of contract.
Lawyers at the SBEMP law firm serve clients from Palm Springs, Palm Desert, Rancho Mirage, Inland Empire, Orange County, Coachella Valley, Costa Mesa, San Diego, New Jersey, New York, and nearby locations for a range of legal practice areas.
Have any legal questions? Contact the Attorneys at SBEMP Law Firm:
For more information or to request a consultation please contact the law offices of SBEMP (Slovak, Baron, Empey, Murphy & Pinkney) by clicking here.
SBEMP LLP is a full service law firm with attorney offices in Palm Springs (Palm Desert, Inland Empire, Rancho Mirage, Indian Wells), CA; Indian Wells, CA; Costa Mesa (Orange County), CA; San Diego, CA; New Jersey, NJ; and New York, NY.
DISCLAIMER: This blog post does not constitute legal advice, and no attorney-client relationship is formed by reading it. This blog post may be considered ATTORNEY ADVERTISING in some states. Prior results do not guarantee a similar outcome. Additional facts or future developments may affect subjects contained within this blog post. Before acting or relying upon any information within this newsletter, seek the advice of an attorney.