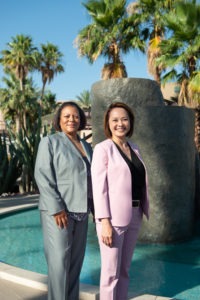 Slovak Baron Empey Murphy & Pinkney LLP (SBEMP), the largest law firm based in the Coachella Valley, has formally announced attorneys Lena Wade and Vee Sotelo as new partners.
Ms. Wade is a Coachella Valley native who returned to practice law in the Valley after graduating from Duke University Law School. She serves as general counsel, special counsel and litigation counsel to several public agencies in the Coachella Valley and the Inland Empire. She has represented counties, cities, public housing authorities and various quasi-public and private entities. In addition to representing public agencies in day to day matters, Ms. Wade also represents public agencies in labor negotiations as well as private businesses in connection with ADA compliance and litigation. Ms. Wade will be based out of SBEMP's soon to be opened Indian Wells office and will continue representing clients throughout Southern California.
Ms. Wade serves as the Chair of SBEMP's public agency practice group and has played a vital role in SBEMP's growing public agency practice. "Lena is one of the most ethical and honest attorneys I know. We are proud to have her as a partner and we look forward to great things to come from Lena," said John Pinkney, Managing Partner of SBEMP. "Her clients value her candid advice, her commitment to their interests and her calm level-headed demeanor as she guides them through even the most challenging situations. She is a true pleasure to work with and to have as part of our growing partnership team."
Mrs. Sotelo represents employers in a wide array of labor and employment related matters. She regularly advises and represents clients in connection with day to day human resource issues, employment policies, regulatory compliance, class action defense, wage and hour law, wrongful termination and sexual harassment matters. Mrs. Sotelo is a frequent speaker and presenter at employment law training seminars and sexual harassment seminars. Although Mrs. Sotelo is based in the Palm Springs office of SBEMP, she regularly represents clients throughout California.
"Mrs. Sotelo serves as the Chair of SBEMP's labor and employment practice group. She is an outstanding and experienced labor and employment attorney, litigator and trial attorney. Her clients value her advice, her work ethic, dedication and her proactive approach to the practice of law," said John Pinkney, Managing Partner of SBEMP. "Mrs. Sotelo exemplifies qualities and expertise that our small, midsize and large institutional clients have come to rely on from our attorneys. She is a wonderful addition to our firm's growing partnership and we welcome her and congratulate her on her continuing success as a fierce advocate for her clients."
SBEMP is a full service law firm with offices in Palm Springs, Indian Wells, Orange County, San Diego, New Jersey and New York.