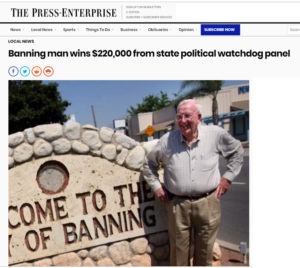 The fundamental right of due process is essential to a free society. When Frank J. Burgess was unfairly accused and penalized without warning by the Fair Political Practice Commission (FPPC) while sitting on a non-profit board, he took it upon himself to challenge the FPPC Decision to protect the sacred right of due process for the greater good of the public at large. After three years of litigating this matter both at the administrative level and in superior court, Mr. Burgess' efforts have finally been validated, with the help of SBEMP.
Click to read the full story: https://www.pe.com/2018/09/07/banning-man-wins-220000-from-state-political-watchdog-panel/
For more information or to request a consultation please contact the law offices of SBEMP (Slovak, Baron, Empey, Murphy & Pinkney) by clicking here.
SBEMP LLP is a full service law firm with attorney offices in Palm Springs (Palm Desert, Inland Empire, Rancho Mirage), CA; Costa Mesa (Orange County), CA; San Diego, CA; Princeston, NJ; and New York, NY.
DISCLAIMER: This blog post does not constitute legal advice, and no attorney-client relationship is formed by reading it. This blog post may be considered ATTORNEY ADVERTISING in some states. Prior results do not guarantee a similar outcome. Additional facts or future developments may affect subjects contained within this blog post. Before acting or relying upon any information within this newsletter, seek the advice of an attorney.