Indian Wells, CA— December 19, 2019 — The law firm of Slovak, Baron, Empey, Murphy and Pinkney (SBEMP) announced an expansion into family law headed up by veteran family law attorney, Carolyn H. Martino, Esq.
"With more than 25 years of practice in the Coachella Valley and Los Angeles, Ms. Martino has earned an exceptional reputation for integrity, professionalism, and dedication to achieving positive results for her clients. Her expertise in handling complex dissolutions involving significant assets and custodial issues dovetails perfectly with SBEMP's goal of serving the full spectrum of legal needs for our clients. We are very fortunate to have her on board." said SBEMP Managing Partner, John Pinkney. Ms. Martino will launch the new practice field for SBEMP from their recently opened Indian Wells offices.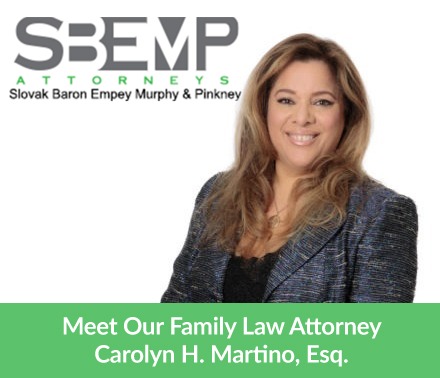 A New York native, Ms. Martino's father was a legal scholar interested in International Law and public policy. She earned her undergraduate degree at UCLA and her J.D. at Loyola Law School. In addition to her outstanding legal acumen and trusted client relationships, Ms. Martino devotes her free time to her family and philanthropy through a variety of endeavors, including her roles as Co-Chair of the Family Law Section of the Desert Bar Association; Founding Member and VP of the Coachella Valley Youth Hockey Foundation; and Member of the City of Indian Wells Architecture and Landscaping Committee.
"Family law matters are so personal and unique to each individual," Martino said, "yet they require the same keen attention as business law matters. Complex and emotional real-life issues related to how children are going to grow up and how a family's financial life is going to change can become all-consuming. That is the part of this practice field that I connect with – the ability to hopefully counsel and guide people through what will be one of their most challenging periods in life, and to do so discretely and with compassion."
About SBEMP: Established in 1995, SBEMP LLP has grown to become the largest full-service law firm based in the Coachella Valley. With offices in Palm Springs, Indian Wells, Orange County, San Diego, New Jersey, and New York, SBEMP provides legal services that range from labor and employment law, business and real estate law, mergers and acquisitions, healthcare law, tribal law, trusts and estates, litigation, public agency law and now family law. The foundation of the firm is hard work, creative and aggressive advocacy, and an unwavering focus on the needs of our clients. Our goal in every matter is to achieve the best possible result in a cost-effective manner.
Contact Us
For more information or to request a consultation please contact the law offices of SBEMP (Slovak, Baron, Empey, Murphy & Pinkney) by clicking here.
SBEMP LLP is a full service law firm with attorney offices in Palm Springs (Palm Desert, Inland Empire, Rancho Mirage), CA; Indian Wells, CA; Costa Mesa (Orange County), CA; San Diego, CA; New Jersey, NJ; and New York, NY.
DISCLAIMER: This blog post does not constitute legal advice, and no attorney-client relationship is formed by reading it. This blog post may be considered ATTORNEY ADVERTISING in some states. Prior results do not guarantee a similar outcome. Additional facts or future developments may affect subjects contained within this blog post. Before acting or relying upon any information within this newsletter, seek the advice of an attorney.