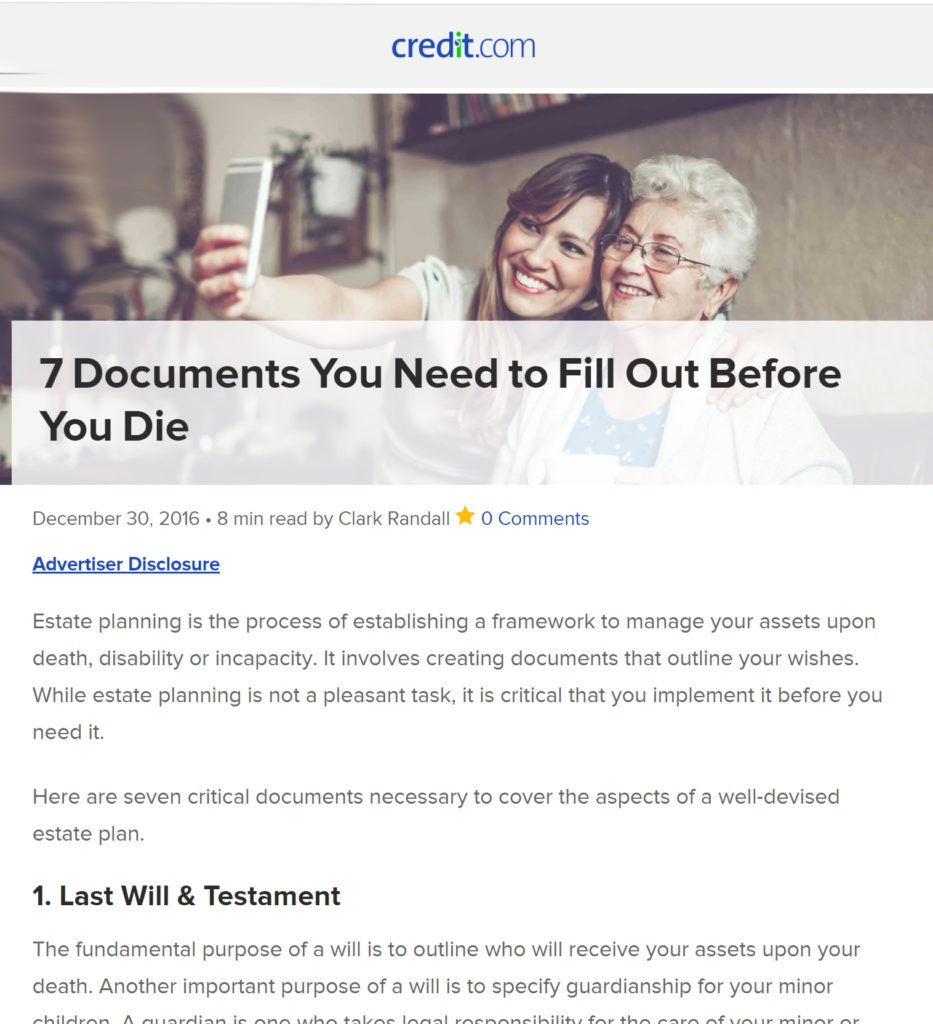 As seen on Credit.com:
Estate planning is the process of establishing a framework to manage your assets upon death, disability or incapacity. It involves creating documents that outline your wishes. While estate planning is not a pleasant task, it is critical that you implement it before you need it.
Here are critical documents and things necessary to cover the aspects of a well-devised estate plan.
Last Will & Testament / Living Will
Establish a Living Trust
Power of Attorney for Your Estate and Healthcare
HIPAA Release
Letter of Intent
Update Your Beneficiaries
Secure Your Digital Assets
Plan Final Arrangements
Make Copies of All Your Documents and Store in a Safe Place
Talk to Your Family and Friends About the Details
Read more:
https://www.credit.com/blog/7-documents-you-need-to-fill-out-before-you-die-164157/
Need Help with Estate Planning? Contact Us
For more information or to request a consultation please contact the law offices of SBEMP (Slovak, Baron, Empey, Murphy & Pinkney) by clicking here.
SBEMP LLP is a full service law firm with attorney offices in Palm Springs (Palm Desert, Inland Empire, Rancho Mirage), CA; Indian Wells, CA; Costa Mesa (Orange County), CA; San Diego, CA; New Jersey, NJ; and New York, NY.
DISCLAIMER: This blog post does not constitute legal advice, and no attorney-client relationship is formed by reading it. This blog post may be considered ATTORNEY ADVERTISING in some states. Prior results do not guarantee a similar outcome. Additional facts or future developments may affect subjects contained within this blog post. Before acting or relying upon any information within this newsletter, seek the advice of an attorney.