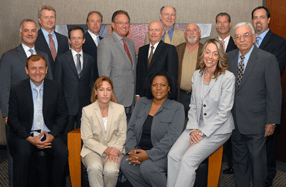 The partners and associate attorneys of Slovak Baron & Empey LLP Slovak, Baron & Empey LLP was founded in 1994. The founding members had been partners in the largest law firm in the Inland Empire, each with over fifteen years of experience and a proven track record of substantial success. They formed their own firm to concentrate exclusively on providing clients with superior legal representation and first-class service at competitive pricing. The firm has continued that success and built a strong reputation in both complex litigation and transactional matters.
The foundation of the firm is hard work, creative and aggressive advocacy, and an unwavering focus on the needs of the client. Our goal in every matter is to achieve the best possible result in a cost-efficient manner. We have found that, in the litigation context, the best results are often achieved when the opposition knows that we are prepared to try a case. Our partners have successfully tried over 100 cases to judgment or verdict, as well as having participated in hundreds of arbitrations and alternative dispute resolution proceedings. More often than not, this expertise leads to favorable settlements without the necessity of trial.
The firm has negotiated and closed over 500 complex business and real estate transactions totaling over a billion dollars throughout the United States. The firm's unique transactional portfolio includes public and private companies, in addition to local, state and federal governments and regulatory agencies.
In advising and representing our clients, we emphasize understanding their business so we can help identify solutions that make business as well as legal sense for the company or individual. Many of our attorneys have grown up or spent most of their lives in the Coachella Valley. Their long-term community involvement gives the firm unique access to the area's business, political and community leaders.