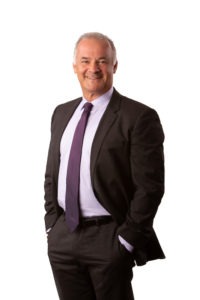 Chair, Litigation Practice Group | Coachella Valley Lawyer
Slovak Baron Empey Murphy & Pinkney LLP
1800 E. Tahquitz Canyon Way
Palm Springs, California 92262
Telephone: 760.322.2275
Fax: 760.322.2107
Email: murphy@sbemp.com
Shaun M. Murphy is a Martindale-Hubbell AV-rated trial attorney and partner with Slovak Baron Empey Murphy & Pinkney LLP. Currently, Shaun's practice is primarily complex civil litigation (contract, real estate and land use, trade secrets and intellectual property) and plaintiff's personal injury. Shaun has experience in a broad range of issues, including employment claims, unfair competition, multi-jurisdictional product liability/recall actions, public and private construction disputes featuring delay/disruption/acceleration claims, and professional liability claims. He has also successfully defended several commercial clients in a broad range of claims including architectural copyright infringement, trademark infringement and breach of contract. He has extensive mediation and arbitration experience and has tried cases in both state and federal courts.
Shaun has developed a national reputation in cases involving the transmission of sexually-transmitted disease claims. Shaun has obtained multi-million dollar jury verdicts with punitive damage awards in multiple states. The verdicts obtained in these cases are some of the largest reported verdicts in the County. He has also obtained several million dollar settlements for both commercial and personal injury clients.
NOTABLE ENGAGEMENTS
The following are examples of matters that Shaun has handled:
Successfully defended one of the largest waste industry companies and its subsidiaries in a breach of contract and fraud action related to the processing of recyclable materials and obtained a settlement payment from the plaintiff for the company on its cross-complaint;

Successful represented large waste industry companies related to claims involving the Surface Mining And Reclamation Act (SMARA) arising from the reclamation and backfilling of former mining quarries;

Represented a plaintiff against a defendant who failed to disclose a genital herpes infection prior to engaging in a sexual relationship with the plaintiff. The jury awarded $6,753,600 in medical expenses, emotional distress damages, and punitive damages. The verdict is the largest ever in the United States for a case involving the transmission of genital herpes;

Represented a woman infected with genital herpes by her husband after 16 years of marriage. The jury awarded $2,492,000 in compensatory and punitive damages. The jury's verdict is the second largest ever for a case involving the transmission of genital herpes;

Represented a woman infected with genital herpes by a well-known celebrity and obtained a confidential settlement in excess of seven figures;

Represented a software company that develops educational monitoring and compliance programs for school districts in theft of trade secret and unfair competition action;

Successfully defended a homebuilder in federal district court against architectural copyright claims by obtaining a dismissal of the action;

Represented a C & H Sugar Company in labor/union arbitrations resulting from employee discipline and termination actions;

Successfully defended Buzzbox Beverages, Inc. in a trademark infringement lawsuit in federal district court in Los Angeles;

Obtained a $1.6 million verdict in Dallas, Texas for a women who contracted genital herpes from a boyfriend who failed to disclose his infection.
PUBLICATIONS
"Authenticating Web Pages: Can It Be Done?" California Litigation (Vol. 23, No. 2, 2010).

"Planning Ahead: the Importance of Validating Evidence In Civil Cases" New Developments in Evidentiary Law In California, Inside the Minds (Aspatore 2010)

Contributing Commentator, California Civil Jury Instruction Companion Handbook 2009-2010 (West Publishers) (§ 6:1)

Contributing Author, "Annual Survey of Michigan Law: Criminal Procedure," Wayne Law Review (Vol. 42, No. 2A, Winter 1996)
PUBLISHED DECISIONS
TEACHING AND SPEAKING ENGAGEMENTS
University of California, Hastings College of the Law, Adjunct Professor, Legal Writing and Research (2003-2004)

Marital Torts and Marvin Cases

, co-presenter to the Association of Certified Family Law Specialists, June 14, 2011, Marin, California
EDUCATION
University of California, Hastings College of the Law, J.D. (1992)

San Francisco State University, B.A., International Relations, cum laude (1989)
ADMITTED TO PRACTICE
United States Supreme Court (1997)

California (1998)

Michigan (1992)

Texas (2014)

New York (2014)

United States District Courts, California (2000)

United States District Courts, Michigan (1992)

United States Court of Appeals, Ninth Circuit (2000)

United States Court of Appeals, Sixth Circuit (1993)

United States Tax Court (1994)
PROFESSIONAL AFFILIATIONS AND ACTIVITIES
The State Bar of California

The State Bar of Michigan

The State Bar of Texas

The State Bar of New York

American Bar Association

Desert Bar Association