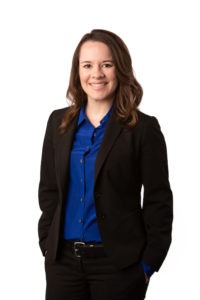 Katelyn Empey
Slovak Baron Empey Murphy & Pinkney LLP
1800 E. Tahquitz Canyon Way
Palm Springs, California 92262
Telephone: 760.322.2275
Fax: 760.322.2107
Email: kempey@sbemp.com
Katelyn K. Empey is an associate attorney in Slovak Baron Empey Murphy & Pinkney LLP's (SBEMP) civil litigation department. Ms. Empey's practice encompasses a wide variety of matters, including environmental, land use, Native American, labor and employment, and public agency law. Ms. Empey has experience in the areas of CEQA litigation and compliance, and has successfully represented clients in resolving complex CEQA disputes.
Ms. Empey regularly advises clients on the complex laws impacting public agencies, including environmental laws and regulations, medical marijuana law, Proposition 218 and 26, statutory powers, and public contracts. She has also worked on a variety of cases in the firm's civil litigation practice, including election contests, employment law, personal injury, and Indian Tribal disputes.
Ms. Empey has also successfully assisted in estate administration and conservatorship matters. While at SBEMP, Katelyn has worked on behalf of law enforcement, public agencies, Indian Tribes, and private citizens on complex civil litigation.
During law school, Ms. Empey was a Speaker Chair for the Loyola Los Angeles Environmental Law Society, and represented the school in the 2013 Environmental Law Moot Court Competition where her team was awarded best brief in its category.
EDUCATION:
University of California, Santa Barbara, B.A., Business Economics, cum laude (2009)
Loyola Law School, Los Angeles, J.D., concentration in Environmental Law (2013)
ADMITTED TO PRACTICE:
California State Bar (2013)
United States District Court, Central District of California (2013)
United States District Court, Southern District of California (2017)
United States District Court, Northern District of California (2017)
United States District Court, Eastern District of California (2017)
Ninth Circuit Court of Appeals (2017)
AFFILIATIONS AND ACTIVITIES
The State Bar of California, Litigation and Environmental Law Sections
Desert Bar Association
Warren Slaughter-Richard Roemer Inn of Court
Leadership Coachella Valley, Class of 2015
Leadership Coachella Valley Alumni Council