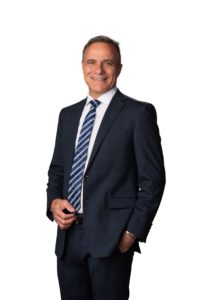 Bruce T. Bauer
Bruce T. Bauer is Of Counsel with Slovak Baron Empey Murphy & Pinkney LLP, practicing in the areas of civil and business litigation, governmental relations, municipal and public agency law. Mr. Bauer lives and works from the firm's office in Palm Springs and also from its Costa Mesa Office.
Mr. Bauer achieved an AV-Preeminent (peer) rating since the year 2000. He has substantial civil litigation and transactional experience including in the areas of banking, employment, real estate, tort and business law. He has successfully conducted numerous federal and state bench and jury trials. He also served as a trainer and panelist for the Bankers' Compliance Group in which he delivered statewide seminar presentations on topics such as negotiable instruments, employment, collections, and banking related operational issues.
Mr. Bauer handles all aspects of litigation including appeals. He has numerous published decisions in state and federal courts: Malkoskie v. Option One Mtg. Corp., 188 Cal. App. 4th 968 (Cal. Ct. App. 2010); Aceves v. U.S. Bank N.A., 192 Cal. App. 4th 218 (Cal. Ct. App. 2011); Keen v. American Home Mortgage Servicing, Inc., 664 F. Supp. 2d 1086 (E.D. Cal. 2009); Blanco v. Am. Home Mortg. Servicing, Inc., 2009 WL 4674904 (E.D. Cal. 2009); and Gardner v. American Home Mortg. Servicing, Inc., 691 F. Supp. 2d 1192 (E.D. Cal. 2010), among others.
EDUCATION
J.D., Loyola School of Law (1990), Law Extern Clerk to Bankruptcy Judge Alan M. Ahart

Cal. State Univ. Long Beach (1987), Departmental Honors
ADMITTED TO PRACTICE
California, and all court of the state of California

U.S. District Courts including Central, Southern, Eastern and Northern Districts of California

All Bankruptcy courts in the state of California
PROFESSIONAL AFFILIATIONS AND ACTIVITIES
Vice-Chair and Member of City of Santa Ana Planning Commission (2014-2017)

Chairperson and Member of Rancho Santiago Community College District Oversight Bond Committees (for Bonds "E" and "Q") (2016-2019) charged with management of $337 million and $198 million in funds.

Board member of Heritage Museum of Orange County (2016-2019)

Board Member of Pythian Youth Foundation (2015-2019)

Active in LGBTQ issues and Member of Lambda Legal Defense Fund

ADEM Delegate to State Democratic Convention

Recipient of the Wiley W. Manuel Award for Pro Bono Legal Service

Marathon runner including 2013 Boston Marathon