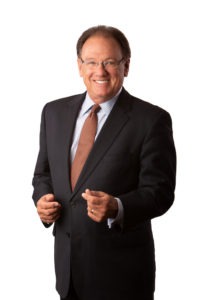 Slovak Baron Empey Murphy & Pinkney LLP
1800 E. Tahquitz Canyon Way
Palm Springs, California 92262
Telephone: 760.322.2275
Fax: 760.322.2107
Email: sartain@sbemp.com
Mr. Slovak began his career emphasizing labor relations for management representing a wide variety of public and private entities in labor contract negotiations, disputes, and administrative hearings including a substantial practice before the Agricultural Labor Relations Board.
From 1974 through 1993, Slovak was an associate and then partner (1981) with Best Best & Krieger LLP (BB&K) in the firm's Palm Springs office. He headed the litigation department of BB&K that at one point grew to 17 lawyers in its 35-person desert branch.
By the 1980s his trial practice began to emphasize commercial, real estate transaction, fraud and fiduciary disputes, with some substantial emphasis in probate and trust litigation. In the last decade, Mr. Slovak has returned to an emphasis in employment litigation acting as plaintiffs' lead trial counsel on wage and hour class actions, as well as a wide variety of employment discrimination cases based on race, religion, and sex.
His practice is diverse to include representing companies and individuals on land use matters, partnership disputes, shareholder derivative suits, fiduciary duty disputes of all types, will and trust contests, construction defect litigation including subsidence claims, anti-trust claims, unfair business practice, unfair competition, and trade infringement claims to name just a few.
He recently tried a dispute defending the seller of commercial property against claims of fraud and failures to disclose defects in what is believed to be one of the longest civil jury trials in Riverside County history, lasting over four months with a successful result for the defense with the jury just out four hours to reach its verdict. Against the County of San Bernardino, in 2002, he obtained a $2.3 million judgment for a woman wrongfully terminated due to a physical disability.
Mr. Slovak has tried to verdict numerous commercial and labor arbitration matters, as well as participating in well over 100 sophisticated mediations as counsel and occasionally acting as a private mediator upon request. Throughout his career Mr. Slovak has volunteered his time to serve on the Riverside Superior Court voluntary panel of mediators. He presently resides in Rancho Mirage, California with his wife and youngest son, four other children now having entered or completed their college educations. His hobbies include traveling, photography, and reading. Golf does not fit into his schedule given his busy trial practice.
NOTABLE ENGAGEMENTS
Represented a publicly traded company developing and then operating regional shopping centers in subsidence case filed before AAA against large grading company and engineers where 18′ foot fills were found to be at 70% compaction or less. Case successfully settled on confidential terms.

Represented East Coast producer and national distributor of hybrid seed against an international company in state and federal court cases filed alleging antitrust and breach of fiduciary claims. Cases successfully settled on confidential terms.

Defended owner of a LLC of multiple building apartment complex against claim by buyer of breach of purchase agreement alleging fraud and the existence of latent construction defects that owner allegedly was required to repair pre-closing, despite "as is" clause in purchase agreement. Plaintiff claimed $8 million in actual damages plus attorney's fees and cost. Jury returned unanimous defense verdict after four month trial with Judge awarding client $1.8 million in expert costs and legal fees.

On behalf of thousands of California employees, successfully brought as lead or co-lead trial counsel many wage and hour California class action cases against national companies, including a union operating in California. All were settled, either prior to or after certification of class. Terms of settlements generally restrain counsel from mentioning parties or terms. Also, have defended employers against such claims.

Represented numerous agricultural employers involved with union organizing, peaceful picketing litigation and unfair labor practice claims primarily before Agricultural Labor Relations Board, but also the National Labor Relations Board for packing shed employees. Also represented employers of all types including hotels, school districts, hospitals, country clubs, and construction companies in collective bargaining of contracts with unions, as well as in related labor litigation before state and federal courts, arbitrators, labor boards and administrative agencies.

Represented plaintiff purchaser of national franchise and associated facilities in breach of contract and fraud claims for misrepresenting financials and withholding information regarding location of property on landfill with resulting subsidence to building. Jury award of seven figures including punitive damages. Verdict upheld on appeal.

Represented hourly employee against County of San Bernardino for wrongful termination and disability discrimination. Jury verdict with attorney's fees exceeded $2 million. Verdict upheld on appeal.

Represented sons of decedent by earlier marriage against claims of decedent's spouse who at death was excluded per a pre-marital agreement from any interest in decedent's estate including a family trucking and rail business. Spouse claimed community property interest in company alleging decedent underpaid for community efforts expended during lifetime by sons and their mother, as salary paid decedent was claimed to undervalue community efforts expended and community property intermingled with separate property accounts. $8 million dollars claimed by Petitioner spouse. After 6 week trial, probate judge denied spouse's claims.

Represented Stanford University as a beneficiary of a trust in will contest and pre-death fraud case against individuals who took over the operation of an elderly couples' business shortly before their death. Entire estate recovered.

Represented a software company in misappropriation of trade secret case against departing employees who formed new company and solicited customers. Case pending in arbitration.

Represented an upscale country club in state court action alleging construction defects in clubhouse against 23 defendants including nationally known general contractor, architects and product suppliers. Case settled during mediation for high 7 figures including recovery of all attorneys' fees, plus contractor making repairs per client's defined scope of work with extended warranty.

Represented in arbitration a medical center claiming violations of covenants not to compete by departing physicians. Covenant upheld by arbitrator and case settled.

Represented national homebuilder in arbitration against another national homebuilder over escrow deposit involving large land purchase where client alleged condition precedent of developed lots being in place was not timely met to require escrow to close. After arbitration, judgment for client with attorney's fees and costs awarded.

Defended large, Northern California accounting firm as trustee of trust against claims of breach of fiduciary duty regarding handling of trust assets. Case settled on confidential terms.

Represented nationally known gaming operator in Tribal Gaming Commission action to revoke license. Case settled during hearing.

Defended wind energy developer against claims of "misappropriating the wind" brought by downwind developer who placed turbines on its land first in time. Case successfully settled through unique joint venture agreement.

Represented numerous employees and employers in wrongful termination cases based on breach of employment contracts, as well as several sexual harassment and all types of discrimination based on race, sex, and disabilities including a case representing guards at a privately run, state prison alleging termination for not adhering to religious beliefs and practices instituted at the prison by owner. Represented CEO of hospital district resulting in recall of board members and reinstatement of client.

Acted as confidential mediator in work outs of dissolution of law firm practices.

Defended majority shareholder against shareholder derivative lawsuit seeking dissolution of corporation. Case voluntarily dismissed upon presentation of evidence rebutting claims of alleged mismanagement and breach of fiduciary duties.

Represented in federal court a nationally known manufacturer of a retail product against manufacturer of "knock offs." Permanent injunction obtained including money damages.

Represented numerous real estate developers and parties to joint ventures and limited liability companies involving internal disputes over alleged mismanagement of development and violations of breach of fiduciary duties.

Defended nationally known lawyer against attempt to remove from high end country club for making allegations during HOA election of mismanagement and misconduct by developer who controlled the club. State court action resulted in reinstatement and payment of attorneys fees.

Represented national gas company in Alcohol Beverage Control hearing to obtaining permits to sell alcohol at mini-market over objections of Mother's Against Drunk Driving.

Represented a redevelopment agency in state court action against a county to recover fees paid. Case settled.
PUBLICATIONS
"There is More to Arbitration Than Just Arbitrating," California Lawyer, May 2000
TEACHING AND SPEAKING ENGAGEMENTS
"Superior Deposition Strategies in California Civil Trial Practice" National Business Institute, November 8, 2002, San Bernardino, California.
EDUCATION
University of Southern California (J.D., 1974)

California State Polytechnic College (Pomona) (B.A., with honors, 1971)
ADMITTED TO PRACTICE
Admitted to bar, 1974

California and U.S. District Court

Northern District of California

Southern District of California

Central District of California.
PROFESSIONAL AFFILIATIONS AND ACTIVITIES
Desert Bar Association (Member, Board of Directors, 1981-1985; President, 1986-1987

Chairman, Civil Courts/Litigation Section 1983-1985; Fee Arbitration Panel, 1983 – present)

Riverside County Bar Association (Member, Superior Court Settlement Panel, 1981 – present) American Bar Association

State Bar of California

The Association of Trial Lawyers of America – Concentrations: Labor and Employment Litigation; Class Actions; Business Law; Fraud; Business Tort; Antitrust; Real Estate; Construction Defect Litigation; Estate, and Trust Conservatorship Litigation.