Corporate and Banking
Banking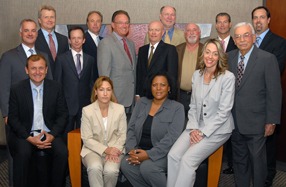 We represent both lenders and borrowers in secured and unsecured loan transactions ranging from small loans to large senior credit facilities. SBEMP Palm Springs banking practice law firm protect lenders and guide borrowers through the financing process. Typical transactions include secured and unsecured loan facilities, letters of credit, as well as asset based lending including equipment, accounts receivable, and inventory financing. Our Palm Springs corporate law firm attorneys in this practice area are frequently called upon to provide rapid response to preserve assets in loan default or foreclosure proceedings with writs of attachment and petitions for relief from stays.
Corporate
We provide advice on all aspects of forming and maintaining corporations, partnerships and limited liability companies. Our attorneys prepare and file formation documents, and draft and negotiate partnership agreements, operating agreements and corporate and shareholder agreements. We regularly advise management and the boards of directors of profit and non-profit corporations and foundations on matters of corporate governance and legal compliance. We work closely with management and accountants to provide corporate succession plans, develop compensation arrangements and provide the legal infrastructure for growth of the company. We also assist in the preparation of minutes and other documents necessary to keep the books and records of an entity in legal compliance with state and federal regulatory requirements.
SBEMP Palm Springs corporate attorneys assist small and large corporate and banking institutions with the many diverse legal issues they face. As corporate attorneys, we represent financial institutions and institutional investors. Some of the issues we provide help with include capital formation and securities issuances, mergers, acquisitions and divestitures, leveraged buy-outs, joint ventures, business restructurings, licensing and intellectual property rights and commercial contracts, as well as related regulatory matters.
In addition to transactional corporate and banking practice, we also specialize in mergers and acquisitions.
Contact Our Palm Springs Law Firm for a Free Consultation
Call us at 760-322-2275 to schedule a time to meet with our experienced corporate attorneys in corporate and banking practice areas. Our Palm Springs office is convenient for Los Angeles, San Diego, and the surrounding areas. We also provide nationwide representation.