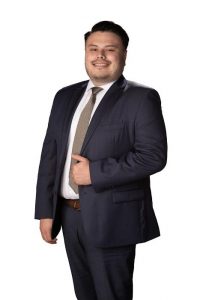 Oscar A. Verdugo is the newest member of SBEMP's legal team and a Coachella Valley native. After graduating Cum Laude with a degree in Sociology from the University of Southern California, Oscar went on to study law at Notre Dame Law School. Oscar's practice areas at SBEMP include Real Estate, Land Use, and Public Agency Law.
Long before his career as an attorney, Oscar worked with the California justice system for years. While still enrolled at USC, Oscar returned to his hometown, Indio, California, to work with the District Attorney of Riverside and the Indio Superior Court of California. Oscar also worked as a Restorative Justice Group Leader for the Indio Juvenile Hall for many years to help Indio juveniles learn how to return to their community as productive members of society.
Oscar has worked for corporate clients and government organizations, including the California Court of Appeal in Los Angeles, DTE Energy, and the Notre Dame Clinical Law Center.
Education:
Notre Dame Law School, J.D.
University of Southern California, B.A.
Languages:
Mr. Verdugo has native proficiency in Spanish.