Real Estate and Land Use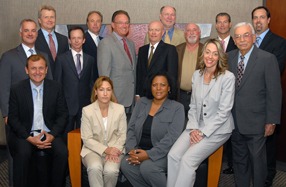 The Coachella Valley presents several unique and diverse real estate and land use issues. From Beaumont at the West end of the valley to Indio in the East, there are ten different local governments, and several unincorporated areas subject to regulation by Riverside County. And interspersed within those communities is Indian reservation land under the sovereignty of several independent Indian Tribes and subject to the federal trust responsibility of the United States Department of the Interior, Bureau of Indian Affairs.
Whether you are a developer or investor, lender or borrower, contractor or landowner, our Palm Springs real estate attorneys' transactional lawyers have the expertise and local experience to help you navigate the legal, political and regulatory obstacles presented by such a diverse market.
Our Palm Springs firm has experience in all aspects of real estate, from raw land acquisitions and sales, to complex financing transactions involving private and institutional investors, traditional and non-traditional lenders, to representing clients during the entitlement process, including complex development and land use agreements, annexation issues, subdivisions and master-planned communities. Through our experience and relationships with local decision-makers, we are able to advise our clients and get them through the land use process as efficiently as possible.
Our litigation attorneys have established a long and successful record representing clients in litigation related to complex real estate and land use projects. In the construction industry, we frequently have represented general contractors, subcontractors and material suppliers, either suing for non-payment and consequential damages, or defending against delay and defect claims. The types of properties involved have included commercial office buildings, governmental facilities, factories, hospitals, wastewater management plants, and surface mining reclamation projects. 
With current market conditions, our Palm Springs firm has been extensively involved in representing banks and other financial institutions in litigation related to the downturn in the real estate market. While every project and every case is different, our experience permits us to focus quickly and efficiently on the issues that arise in most construction disputes.
Contact Our Palm Springs Real Estate Attorneys For A Consultation
To arrange a consultation with an experienced and dedicated Palm Springs real estate & land law attorney, call our office at (760) 322-2275